Mirrors on your Wardrobe Doors
Mirrored Wardrobes
As all budding interior designers know, mirrors are a great way to open up a room by bringing light and depth to a space. While large items of furniture have a tendency to overpower smaller rooms, this isn't the case when it comes to mirrors. Their unique optical properties mean that larger mirrors are actually suited to smaller spaces, making them feel freer and more open.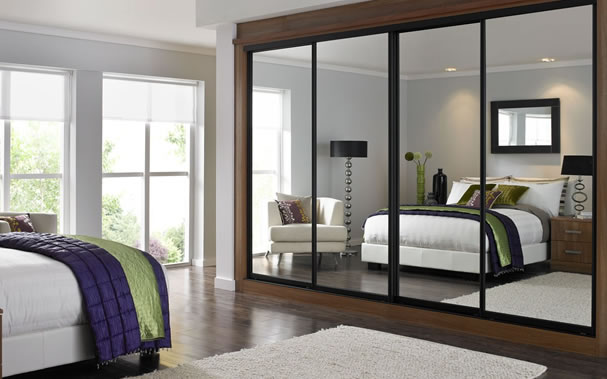 This is great news for bedrooms, whatever the size of the interior you're working with. Mirrored wardrobes let you increase your storage space without having to worry about upsetting the balance of your room.
Different types of Mirrored wardrobes
There are two main kinds of mirrored wardrobe. Conventional mirrored wardrobes feature one or more mirrored doors set between normal wooden doors.
This type of wardrobe is the perfect addition to a bedroom seeking a more traditional style. The mirrored panel adds a practical twist to a time-honoured furniture design, while bringing a little extra light and depth to your space.
The second type of wardrobe is fully mirrored. These designs have a more modern flavour and can really change the way a room feels.
These stylish wardrobes above, for example, feature sliding doors and clean-cut, contemporary edges. While a large, traditional wardrobe might impose in a smaller room, mirrored wardrobes of this type often look better in tighter spaces.
Getting the most from your mirrored wardrobes
Position is the most important factor when working with mirrors. Think carefully about what they will reflect – don't draw attention to things such as dirty laundry baskets! You could also try placing larger mirrors across from windows. This is a good trick to brighten up a darker bedroom by bringing a little bit of the great outdoors into your sleeping space.
It's also a good idea to think about the overall look and feel of the space you're working to decide which style of wardrobe will suit best. In general, larger mirrors look better in rooms featuring a more minimalist design.
If your bedroom is a little busier however, then a more traditional mirrored wardrobe might be the best way to transform it while avoiding a cluttered feel.
Of course, this doesn't mean that you can't use mirrors to draw attention to your room's best features. This is an eye-catching technique that emphasizes your bedroom's personal style.
If you spend a little time considering what kind of space you're working with, and what kinds of mirrored furniture are available, you'll be well on the way to creating a bedroom that feels light and spacious. A mirror needn't just be way to ensure that you look good before leaving the house – it can be a way to ensure your house looks good, too.
Why choose fitted bedroom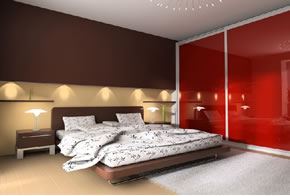 A bedroom isn't only where you lay your head at night. One of the most important rooms of your home should have a place for everything and everything in it's place; so that you can relax in comfort and style.
Other Building Services
Allure also offers a wide range of home improvement and general building services. We are passionate about being good at what we do at Allure and go great lengths to portray this into our work.